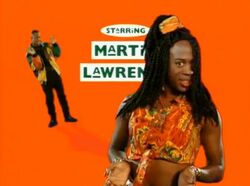 Sheneneh Jenkins

Born

April 15 1971

Age 50

Boyfriend Avonze
Full name | Sheneneh Jenkins
Occupation | Hair Salon Owner

Sheneneh Roshaniah Simone Jenkins (Born April 15 1971) age 49 is a character portrayed by Martin Lawrence. Sheneneh is a sassy, ghetto, flashy, mouthy, confrontational, and feisty. She is the owner of Sheneneh's Sho' Nuff Hair Salon. Through Sheneneh is awkwardly tall and thick. She has something in common with Mama Payne, she doesn't like Gina. She lives in the apartment across from Martin.
Sheneneh wears different types of wigs which she refers to them as "weaves."
Early Life
Sheneneh was born in Detroit and raised by her grandma Shirley Jenkins while her mother Shannon Lee Jenkins was in jail ,She went to jail when Sheneneh was 2 ,And Sheneneh Farther is unknown,Her mother got out when Sheneneh Graduated High school .
Sheneneh work in a salon as a teen because Sheneneh got into fights in school and when her grandmother was working as a secetary, Sheneneh work in a salon sweeping hair then by high school she was doing hair and nails, Then By age 18 promote to manger and changed the name to sheneneh's sho'nuff hair salon
Community content is available under
CC-BY-SA
unless otherwise noted.