We're Getting Mutants in the MCU - The Loop
Play Sound
This page is about: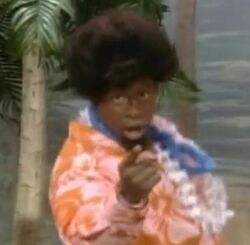 Elroy Preston is a character portrayed by Martin Lawrence. He is a parody of Elvis Presley.Elroy is a forgotten and washed up. Elroy works at a auto-mechanic, and best known for breaking into song while performing his mechanical duties. He often distracts himself and irate others. Elroy only sings "Don't You Know Good".
Junior is Martin's crazy, one-eyed uncle. He wears an eyepacth. He seemed to have a crush on Nadine Waters, but hated by Cliff Waters.
Fluorine is Mama Payne's cousin. She was in 1 episode. The only episode she was in was the 2nd Thanksgiving episode. She was the only known Payne to not be at Martin & Gina's wedding.
Sunny is Martin's thieving cousin, Junior's son, and Mama Payne's nephew.
Dr. Cliff Waters is the mean-spirted father of Gina & husband of Nadine. He is hated by the entire Payne family (including his son-in-law, Martin, & Mama Payne). He is the brother or brother-in-law of Gina's aunts, Sarah & Lois.
Pam's Mother was only mentioned in the show. She married Pam's ex-boyfriend. It's possible that her last name is James or Love. Pam did say that Alisha was her cousin on her mother's side, so Mrs. James has some unknown sibling.
Tammy is Pam's crazy cousin. Tammy has a crush on Martin. She lied about being a model.
Rev. Leon Lonny Love is Pam's disant cousin. Leon is crucket revron.
Alisha (surname probably Love or James) is another one of Pam's cousins. Pam did say that Alisha was her cousin on her mother's side.
Ernestine is yet another one of Pam's cousins.
Madelyn "Maddie" Brown is the no-nonsense mother of Cole Brown.
WZUP
[
]
Stan Winters is the former owner of WZUP, and former boss of Martin Payne.
Shawn McDermott is a former employee of WZUP, and former coworker of Martin Payne.