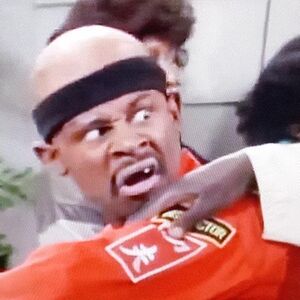 Dragonfly Jones is a character portrayed by Martin Lawrence. He appears to be a middle-aged man who has a pot belly, a shaved head, and several missing front teeth. He wears a scarf tied around his head and a red kimono with his name and a few random patches stitched on. This character was surely inspired by that of Jamaican singer Carl Douglas, whose 1974 hit "Kung Fu Fighting' reached #1 on the U.S. and U. K. charts.
Personality
[
]
Dragonfly Jones first appeared in the Season 1 episode 'Your Arms are Too Short to Box With, Martin,' where Martin and the gang seek self-defense training after Tommy is beaten up by a group of dwarves. He passes himself off as a "martial arts expert" who once studied under Bruce Lee (as Lee lived on the floor above Dragonfly).
Despite his boastful claims, Dragonfly is no longer an expert in martial arts, and it's hard to believe that he ever was. Martin's boss Stan says, after dragonfly's first appearance, that he is actually a mechanic (and a good one too). He is loud, brash, arrogant, and he constantly takes advantage of his obedient assistant, Kenji, by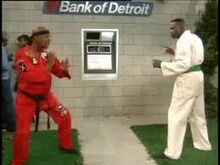 withholding the pay he promised Kenji. The assistant apparently waits until his financial status becomes a dire need (i.e. lights are being cut off or car being repossessed) to ask Dragonfly for his money. Dragonfly then berates, demands "siiiiilence!" and calls Kenji names for even questioning his authority.
On one occasion at Nipsey's, Dragonfly flatly tells Kenji that even though he has the money he owes Kenji, he still won't pay Kenji the Christmas bonus he was promised. Dragonfly disrespects Kenji further by ordering everyone in Nipsey's club except Kenji a round of drinks. On another occasion, Kenji confronts Dragonfly at an ATM, where Dragonfly denies having any money despite flashing handfuls of newly withdrawn cash.
After Kenji's persistent pleas are ignored, Dragonfly challenges his "puuunk!" assistant to fight for disrespecting him. Dragonfly prepares for battle by stretching, dancing, and shadowboxing. But in almost every case, Dragonfly is quickly thrashed by Kenji, who takes only what money he is owed, then honorably gives the rest of Dragonfly's cash back to him.
The only exception was after stiffing Kenji of the money he needed to keep his car out of impound. In that instance, Dragonfly at last beat Kenji after turning on the jukebox to 'Kung Fu Fighting.' Dragonfly's sole victory is short-lived, however, as he is also knocked out and robbed by Ms. Jerri, who Dragonfly had previously stiffed just minutes earlier.